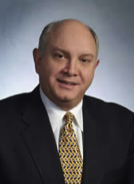 Dr. John Dentico is a nationally and internationally recognized subject matter expert in leadership and experiential learning and is the president of LeadSimm LLC. The major focus of his company's work centers on the key issues and challenges surrounding emergency preparedness. John is the creator of the LeadSimm Leadership Development Simulation method.

For more than 16 years, LeadSimm LLC has assessed the ability of plans, protocols, procedures and most importantly people to deliver performance in the face of complex natural and man made incidents and disasters. We focus on creating proactive strategies, positive learning environments and leadership development opportunities where people can understand the need to build relationships prior to an incident, come to know their roles and build confidence in their ability to meet any emerging threats or challenges.

The LeadSimm method has been applied to complex challenges including: gang warfare, counter terrorism, active shooters, school violence, airport safety and security, crime reduction, protection of petroleum facilities, ports, bridges, and mass transit systems, international banking, and even the opening day of a new baseball stadium.